New Year, New Start
It's not only a new year – it's a new start for the Taranto team!
Having lost last year from an events perspective you can be sure that the team are raring to go, looking forward to reconnecting with you, and to sharing our vision for this exciting new future for Taranto.
So, we are kicking off the new year with this, our Online User Group.  
The User Group will of course focus on the future developments of Taranto, demonstrations of available solutions and recap on recent releases.  We will also explain the Volaris ethos, and how you can expect Taranto being part of the group to benefit you both the short and long term.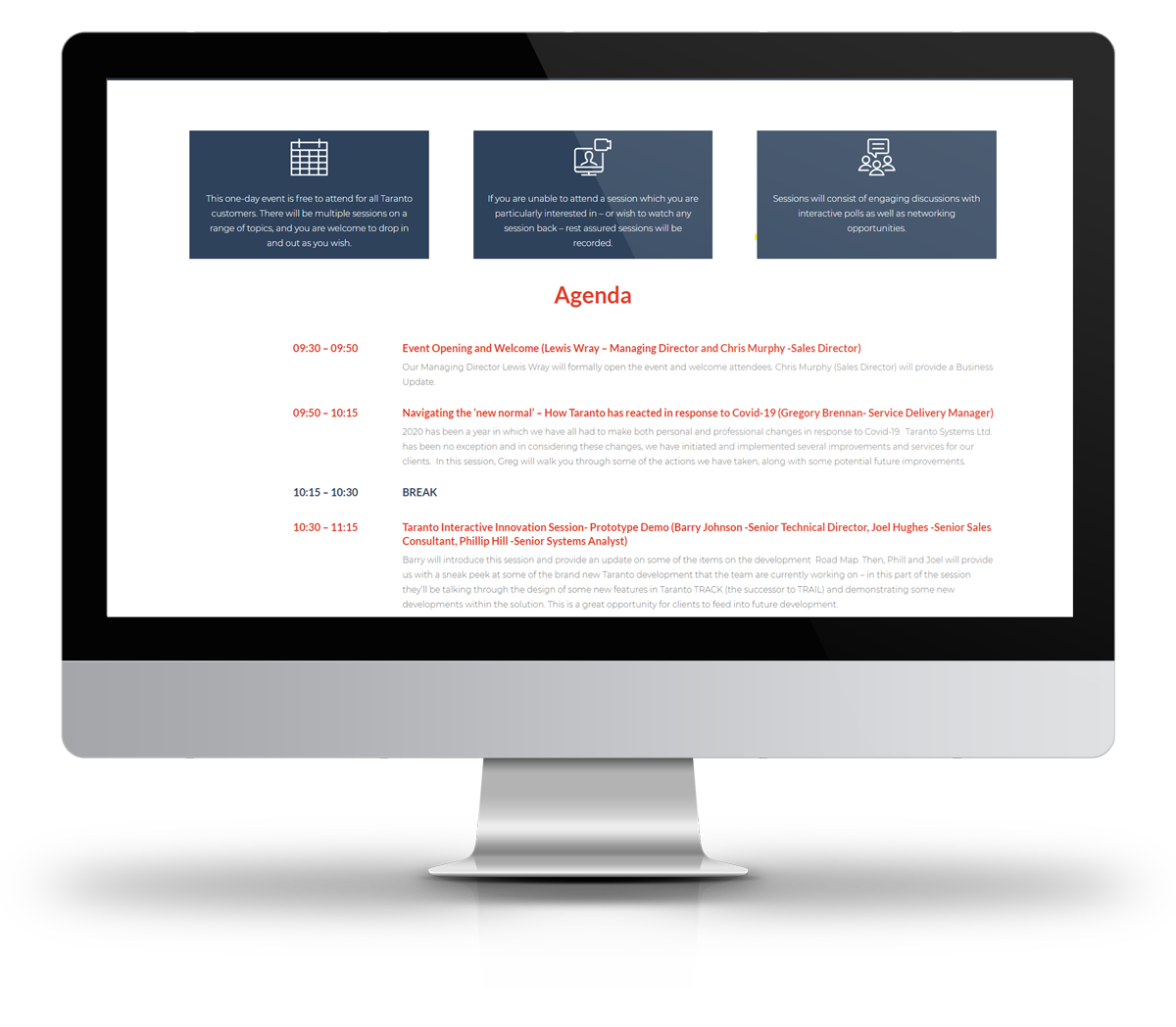 This one-day event is free to attend for all Taranto customers. There will be multiple sessions on a range of topics, and you are welcome to drop in and out as you wish.

If you are unable to attend a session which you are particularly interested in – or wish to watch any session back – rest assured sessions will be recorded.

Sessions will consist of engaging discussions with interactive polls as well as networking opportunities.
Event Opening and Welcome (Lewis Wray – Managing Director and Chris Murphy -Sales Director) 
Our Managing Director Lewis Wray will formally open the event and welcome attendees. Chris Murphy (Sales Director) will provide a Business Update.
Navigating the 'new normal' – How Taranto has reacted in response to Covid-19 (Gregory Brennan- Service Delivery Manager)
2020 has been a year in which we have all had to make both personal and professional changes in response to Covid-19.  Taranto Systems Ltd. has been no exception and in considering these changes, we have initiated and implemented several improvements and services for our clients.  In this session, Greg will walk you through some of the actions we have taken, along with some potential future improvements.
Taranto Interactive Innovation Session- Prototype Demo (Barry Johnson -Senior Technical Director, Joel Hughes -Senior Sales Consultant, Phillip Hill -Senior Systems Analyst)
Barry will introduce this session and provide an update on some of the items on the development  Road Map. Then, Phill and Joel will provide us with a sneak peek at some of the brand new Taranto development that the team are currently working on – in this part of the session they'll be talking through the design of some new features in Taranto TRACK (the successor to TRAIL) and demonstrating some new developments within the solution. This is a great opportunity for clients to feed into future development.
How can CEOs Utilise the full benefits of Taranto Mobile during a Pandemic? (Sharon Silcock – Sales Manager)
Sharon will demonstrate how our Taranto Mobile Software App can be used for far more than just PCN Issuance. She will cover all the new features available on the App that help CEOs be more efficient in their role whilst importantly keeping them safe. Sharon will show our fully integrated Fixed Penalty Notice (FPN) solution that can be used by local authorities to issue multiple types of FPNs including ones for breaking social distancing rules.
Complexities of Training and working during a pandemic (Jon Manning – Training Manager) 
This session will detail the latest quality of life improvements & new modules in the system from version 202  to the upcoming release. These upgrades will assist your team to work more efficiently during the Covid-19 pandemic.
Reducing Costs and Saving Vital Resources (Stephen Forster – Senior Sales Consultant)
During the session Ste will look in to ways our current clients have saved money and valuable resources during the difficult times in 2020, by using the Taranto Fleet Bureau. The session will also cover how Fleet Bureau will evolve moving forward and the additional benefits it can bring to customers using it.
Promoting Self-Serve and Reducing Avoidable Contact (Joel Hughes – Senior Sales Consultant)
Joel will take a quick look at our brand-new Online Suspension portal available for Taranto users to implement that can help authorities provide an amazing service whilst reducing customer-facing interactions with the back-office.
Summary (Lewis Wray & Chris Murphy)
Lewis and Chris will summarise the key themes and bring the day's content to a close.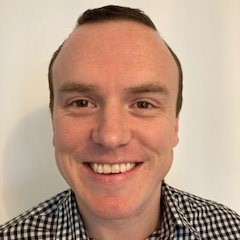 Chris Murphy
Sales Director
(c) 2021 Trapeze Software ULC. All rights reserved.